28 Aug

[ANCX] The country's biggest crafts and artistan fair is opening tomorrow

In this year's Artefino, the focus is on legacy: the fabrics and practices our forebears left behind for us, and the knowledge and creativity the Artefino community of designers and artisans impart on each other. 

By Bam V. Abellon
---
What would it take for us to wear our own culture? Is it a special occasion that impels us to dig up our barong Tagalogs out of the vintage chest? Is it Independence Day at the kid's school?
The founders of ArteFino—Maritess Pineda, Mita Rufino, Cedie Vargas, Susie Quiros, and Mel Francisco—tell us that the answer lies in convoking some of the most creative minds in the fashion industry who also happen to have a big heart for the country. The biggest artisanal and local crafts fair in the Philippines hopes that with each fair comes a deeper awareness of the need for social entrepreneurship and social consumerism.
ArteFino 2019's theme is pamana. Designers were challenged to make the stories of our traditions and cultural past tangible through a seamless harmony of traditional and modern fabrics and embellishment—on clothes, footwear and accessories. The process, too, in making these designs, is an ode to our complex and dense history. The designers familiarized themselves with the meaning of the patterns sewn into their works. Each product brings to the present a story from an almost-forgotten past. For their part, the jewelers had to understand the purpose of recreating indigenous accessories rarely seen by the larger public.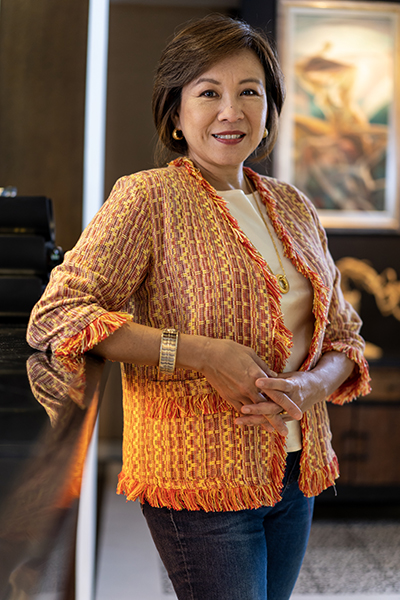 Jeannie Javelosa of Great Women
The entire advocacy is the brainchild of ArteFino's HeArteFino Development Program, which has the goal of growing the communities they support, through, among others, knowledge sharing and training. They also build the bridge between the entrepreneurs and the artisans. This year, HeArteFino worked with the Gender-Responsive Economic Actions for the Transformation of Women (GREAT Women) Project, which aims to make women communities economically sustainable.
Jeannie Javelosa, co-founder of GREAT Women, says that the initiative tries to answer one question: How do we revitalize culture? GREAT Women, which she calls a "brand platform" looks at entrepreneurship from the bottom of the pyramid (the marginalized artisans), facilitating market access for them, including the global market. Javelosa says the GREAT Women brand has even partnered with fashion designers who choose to remain anonymous because they would rather focus on the initiative. Javelosa says, "If culture must continue, it must be revitalized; it cannot be fixed…How can we keep culture constantly alive? By making it relevant in our daily life."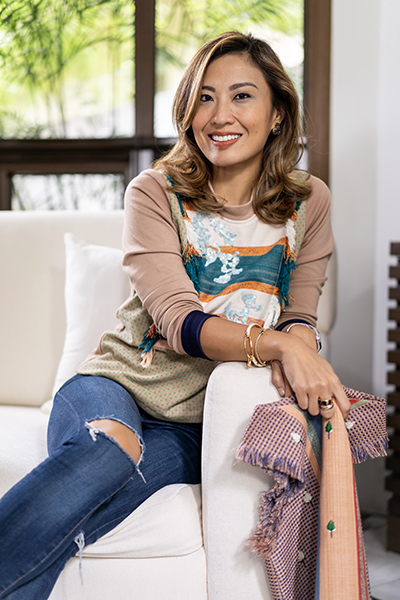 Ocampo holding and wearing her HeArtefino pieces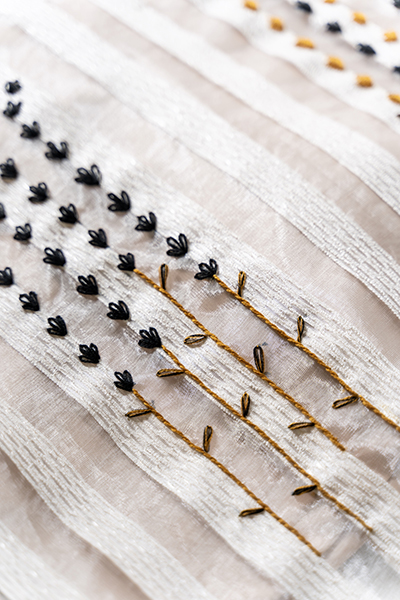 Detail of Ocampo's pieces
Fashion designer Rosanna Ocampo-Rodriquez, for instance, brings the Marawi culture in her personal aesthetic, in her daily, busy life as a mother of two. "The modern Filipina isn't afraid to be bold, colorful, strong," she says. For ArteFino 2019, she creates her interpretation of the barong Tagalog for women. One design under the collection is called the "Adarna," an ode to the mythical bird in the epic Filipino poem. Ocampo's shirt is decorated with pearls, summoning the Philippines' most glorious image as Pearl of the Orient. Despite these references to eras long gone, the designer says the piece is for "women on the go," and can be paired with contemporary staples like denim and stilettos. This women can be working the crowd in a conference in Makati or maybe traveling the world. "The Filipina is very much a global woman," Ocampo declares.
The jewelers of Kathy and Kathy Bespoke
Jewelers Kathy Sarabia-Babst and Kathy Gregorio-Anover are purveyors of culture. The two keywords into their brand, called Kathy & Kathy Bespoke, are aptly "keepsake and heritage." Founded in 2003, Kathy & Kathy Bespoke works with a community of goldsmiths in Bulacan. These goldsmiths specialize in traditional jewelry making techniques, such as granulation, where—as the word implies—a surface is covered in granules or spherules of metal. "We separate ourselves from other heritage brands by incorporating modern materials, such as corals and cameo shells," say these creatives from Iloilo City. Their modern version of the traditional tambourine jewelry is as intricate as it is highly desirable.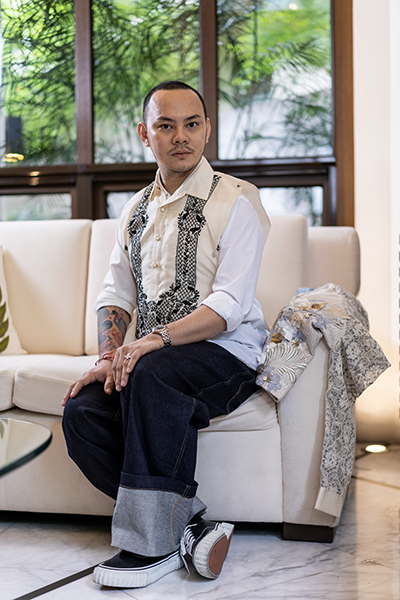 Jor-el Espina explored the possibilities of the Philippine cotton hablon
Through the artistic direction of fashion designers Jor-El Espina and Adante Leyesa, the spotlight is turned toward the hablon, which takes its name from the Hiligaynon word, "habol," which means "to weave." Espina, who is used to working with barongs and local textile says that crafting the products is just part of the process. The sourcing of materials and running after deadlines are some of the challenges the designers have to face when working with communities. But the end-result, Espina says, is worth it: "When you see the actual material, it's beautiful. As a Filipino, that's one thing we can be proud of. We are reinventing fabric to create, not just different patterns, but different textures. It's about time that we Filipinos should be aware of our textiles."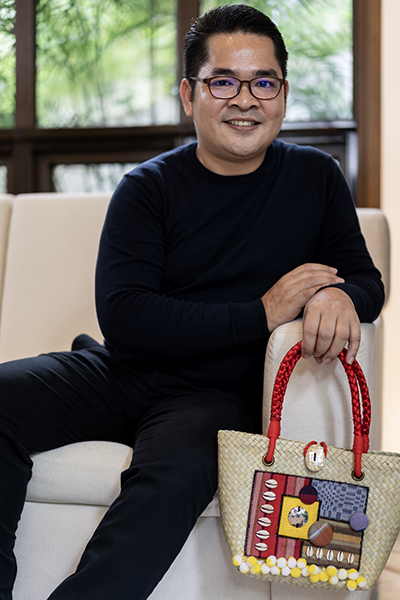 Adante Leyesa showing his design for Artefino: a woven bag with patches of indigenous fabrics
Leyesa, who works with artistans from Batangas City and different communities all over the country, stitches together hablon and tikog fiber for his handbags. Tikog, from tikog leaves, is commonly used for banigsin the Bicol region. "We have a very colorful culture in the Philippines," Leyesa says. "It's nice to represent their [the communities] local product and sell them to a bigger market."
Co-creation hub, Zapateria, is reclaiming Marikina City as the center of the shoe industry in the country. Zapateria is like a creative hangout for shoe makers, shoe designers, and shoe enthusiasts. Unyx Sta. Ana, who represents the hub, knows what heritage and inheritance mean for the modern men and women. As the fifth generation to run a shoe business—her great, great grandfather supplied shoe materials and equipment to the shoe industry in Marikina in the 1880s—she understands the importance of keeping tradition. Zapateria's vision is to have a "collaborative movement that will promote innovation and celebrate the glory days of shoemaking."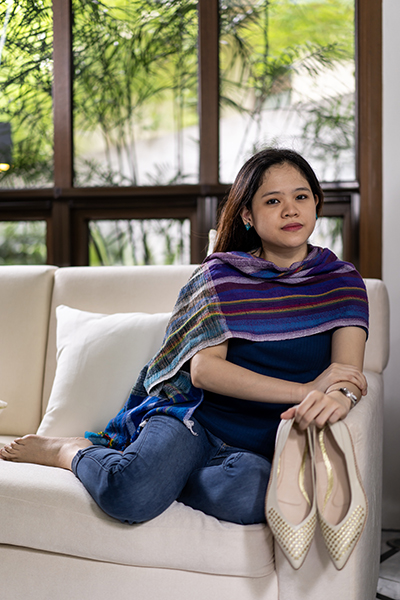 Zapateria's Unicka Sta. Ana
Zapateria has 12 designers under its wing. For ArteFino 2019, it will showcase in their pieces a technique called skin stitching, which their family popularized in the 1950s. They also use weaving and pre-used materials.
Veteran designer Lulu Tan Gan has been a purveyor of contemporary piña dressing since the mid 2007 when she opened her store in Greenbelt 5. At that time, they had to introduce almost to every customer what the Philippine-woven fabric is all about. So it truly pleases her that a wider appreciation for our local materials is finally happening through pop-ups like Artefino. Lulu's easy to wear pieces, little flimsy blouses with sarimanok and palmera motifs, will be making its debut in the fair this August. They are made out of piña from Kalibo, Aklan by women who painstakingly scrape the fibers from the pineapple leaves with coconut husks. These fibers then go through the tedious process of knitting and eventually weaving in the looms. Lulu is happy that there's still plenty of piña-weaving happening in the country, and that there is a younger generation of weavers that have taken interest in its making. "They get to see how designers are playing with the fabric, and how it's uso. It needs to be relevant to them so they will take interest in it's making," says the designer formerly known for her knitwear.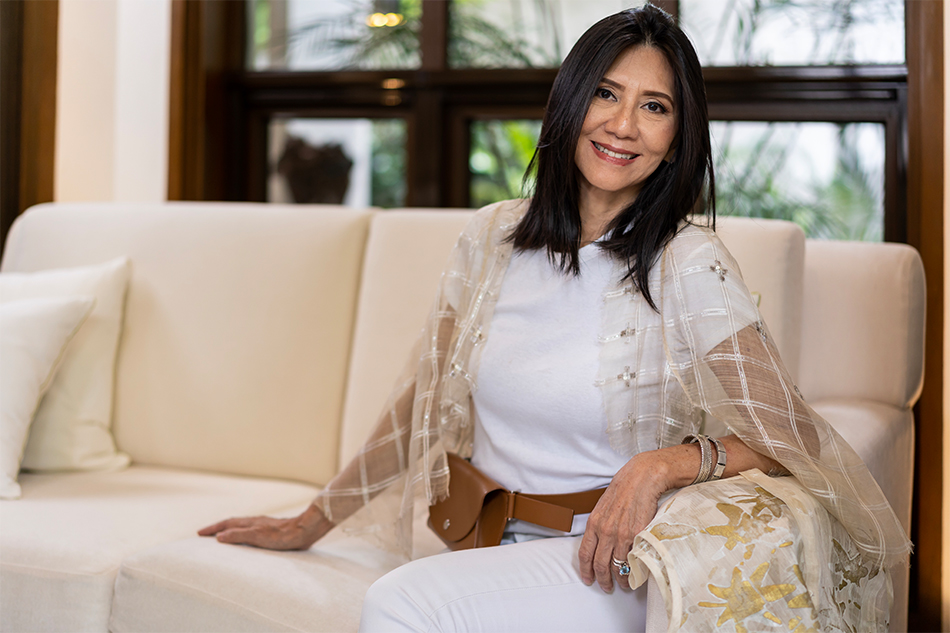 Lulu Tan Gan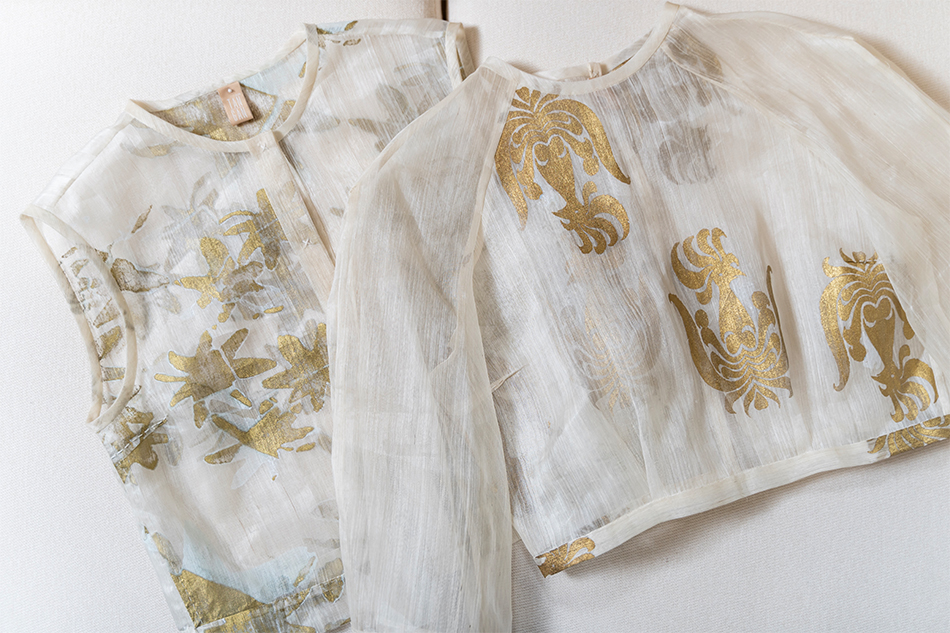 Tan Gan's piña blouses for ArteFino
Then there's Zarah Juan, who found a mentor in distinguished designer Rhett Eala in 2016. The two worked together again this year for ArteFino 2019. The mentor-mentee collaborated with the Bagobo tribes, and the communities from Ifugao province and Marawi City. For both designers, it's a learning experience. Eala says, "In the beginning, if you told me about the fabrics, I wouldn't have been able to differentiate them from each other. This past year, I learned that they're very distinct. Bagobo is more ikat. Marawi is all-out color. Ifugao has more blues and reds." This year, they are doing a lot of embroidery with natural fabric (some are made with 100% Philippine cotton), in casual, bohemian shapes.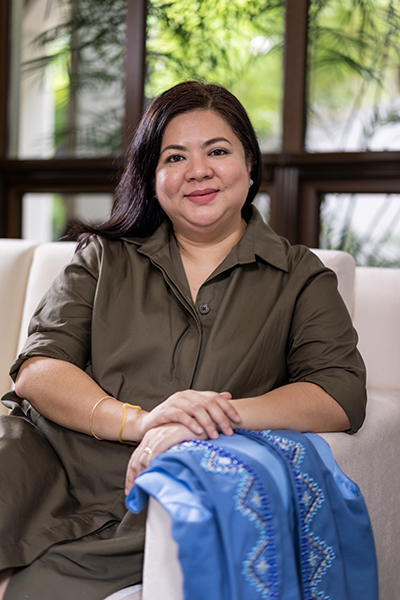 Zarah Juan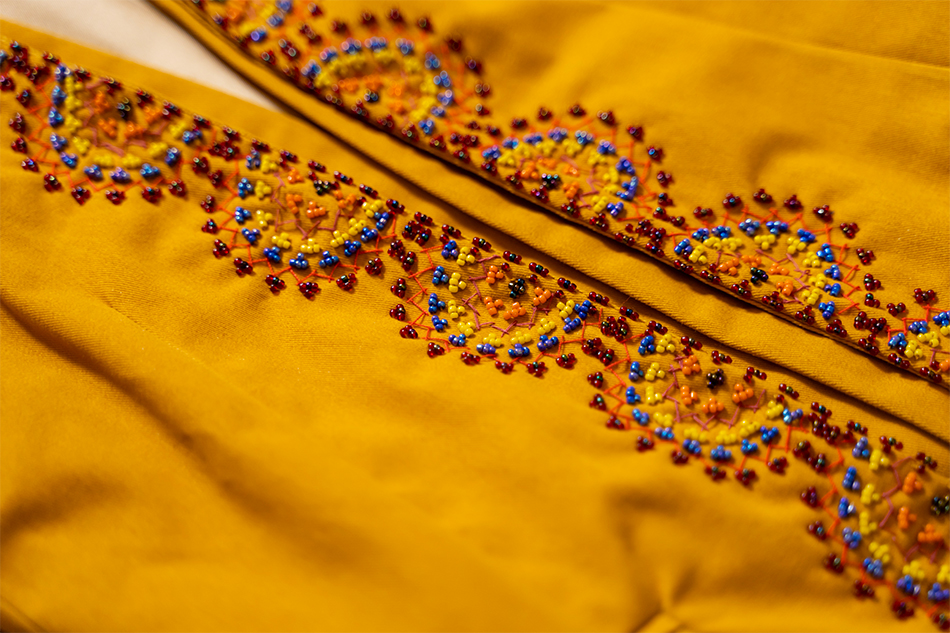 Beadwork of Zarah Juan's vests
uan came to realize the deeper purpose of their project when she visited the community in Marawi City a few months ago: "They're indigenous and marginalized. They have less access to health care, education, basic needs, mostly because of the area where they live. Working with them is also realizing that those needs should be met." For ArteFino 2019, Juan will present beaded vests done by the Bogobo community. The scallop designs were inspired by the mountains of the Davao region.
Rhett Eala is working with fabrics from Marawi
Javelosa's description of the GREAT Women initiative is actually the embodiment of the whole fair. It's more than just the bags, or the shoes, or the clothes, or the jewelry. "It's partnerships," she says. "It's shared values. It's the supply chain. It's our capacity to speak as one, from different platforms of where each one has a strength."
ArteFino 2019 opens its doors to the public from August 29 to September 1, at The Fifth at Rockwell, Power Plant Mall, Makati City.
Photographs by Daniel Soriano
---
Read the original article here.